ALLEPPEY (ALAPPUZHAI)
History of Allepey
Alappuzha (also known as Alleppey) gets its historic name from the past of Kerala. Though the history of this region in the Paleolithic age is not clear, many believe that the coastal regions of Alappuzha were originally under water and later developed from the salt and silt deposits that helped give them shape. Kuttanadu dates back to the Sangam age and the early Cheras had their homes or Kuttuvans (today called houseboats) in Kuttanadu. Christianity spread in this region as early as the first century AD. Some of the churches are located at Chertala and it was founded by St Thomas, one of the 12 disciples of Jesus Christ.His presence made a tremendous impact on the region. Dramatic changes influenced Alappuzha once more in the ninth century. This was when the second

Location : Located in Kerala,It is bounded by Kochi and Kanayannur taluks on its north.
Area : 1414 sq. kms.
Population : Approx. 2 Lakh.

Tourist Spot »

From Allepy Town(Bus Stand) - All the below are located between 5 to 55 kms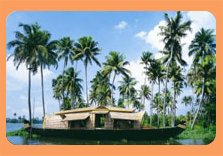 Chamundi Hill.
Lalitha Mahal Palace.
Folklore Museum.
How to reach Allepey ?



: Roadway :
Alleppey is on the NH 47 highway and is connected to all-important towns in south India by public state transport buses.

: Railway :
The nearest railhead is Alleppey Railway Station at 5 km from the central bus stand and the boat jetty. Recently been linked to Cochin by rail, some trains link it to cities like Chennai and Bokaro.

: Airway :
Alappuzha is accessible by all the means of communication. The nearest airport is Kochi at a distance of 64 km north. The Trivandrum airport is located 159 km south of Alappuzha.