COCHIN
History
Kochi - the namelike most cities in India, Kochi has a very long and illustrious history. But, the origin of the name is still
shrouded in mystery. Many theories exist, but none are strong enough to be conclusive. Some historians believe that Kochi is a modified form of the word 'Cochazhi' which in Malayalam means 'small sea'. Others are of the opinion that 'Kochi' was named so by the Chinese. According to them, traders from the court of the Chinese ruler Kublai Khan, gave Kochi the name of their homeland. The peculiar Chinese fishing nets found here, the only place outside China where it has been spotted, can possibly be attributed to the heavy Chinese influence the city has had in the past. Still another theory is that Kochi is derived from the word 'Kaci' meaning 'harbour'.KOCHI IS CAPITAL
CITY IN KERALA
Cochin harbour Kochi earned a significant position on the world trading routes after the world famous port at Kodugallur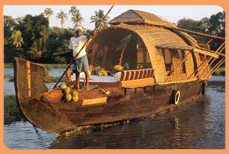 (Cranganore) was destroyed by massive flooding of the river Periyar in 1340 AD. Records show that Kodugallur (Cranganore) was known to the Arabs and Chinese traders for centuries. After the Kodugallur port was destroyed, the forces of nature created a natural harbour at the nearby city - Kochi. Kochi started to grow and soon developed into a major trading point dealing in pepper, cardamom, cinnamon, cloves, etc., which were and still are famous for their quality.

The Arabs, British, Chinese, Dutch, Italians and Portuguese helped Kochi emerge as a bustling centre of commercial activity, connecting the mainland to the rest of the world. Kochi owes a lot to great travellers, scholars and traders like Fa Hien, Vasco da Gama, Sir Robert Bristow, etc. to her growth and prosperity. The English called Kochi 'Mini England', the Dutch called it 'Homely Holland' and the Portuguese called it 'Little Lisbon' highlighting Kochi's prominence. Italian traveller Nicolas Conti wrote in his travelogue: "China is where you make your money, then Cochin is surely the place to spend it."

Location : Located in kerala,near from Allepey(63 kms).
Area : 36 sq. kms.
Population : Approx. 1 Lakh.
Chinese Fishing Nets, Fort Kochi.
Fort Kochi beach.
St. Francis Church, Fort Kochi.
Vasco House, Fort Kochi.
Santa Cruz Basilica, Fort Kochi.M
Jewish Synagogue and Jew Town, Mattancherry.
Dutch Palace (Mattancherry Palace), Mattancherry.
Bolghatty Palace, Bolghatty Island.
Hill Palace, Tripunithura.
Palliport (Pallipuram) Fort.
Mangalavanam Bird Sanctuary
Museum of Kerala History, Kalamassery.
Parikshith Thampuran Museum.
Cherai Beach.
Veega Land.
How to reach Cochin ?

: Roadway :
The Kerala State Road Transport Corporation operates shuttle, long-distance, and interstate express and super fast services from the KSRTC bus station. Also available from here are interstate services of the Karnataka and Tamil Nadu State Transport Corporations. Cochin is well connected by nationalhighways with the rest of the country. These are NH 17 (Ernakulam - Mumbai), NH 47 (Kanyakumari - Salem), and NH 49 ( Cochin - Madurai).

: Railway :
Cochin is connected to various parts of the country by the Indian Railways, the largest railway system in Asia. Trains are accessible from Ernakulam Junction.

: Airway :
International flights are operated from and to the Cochin International Airport , located 25 kms northeast of the city at Nedumbassery. Destinations include Abu Dhabi, Bahrain, Dhahran, Doha, Dubai, Kuwait, Muscat, Singapore and Sharjah.