GURUVAYUR
History of Guruvayur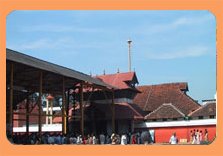 According to the Narada Purana, Brahma Himself was installed here. Serpents are mythically related to the famous Guruvayur temple. There is the myth that at the end of the Dwapara Yuga, the heir of the Pandavas, Parikshit, died bitten by Takshaka, the king of serpent. It was because of a curse by the son of a sage. Parakshit's son, Janamejaya, vowed to take revenge and started a sarpa yagna (snake sacrifice). Fearful of his certain death, Takshaka pleaded with Indra to save him. Indra sent Brihaspati, who requested Janamejaya to stop his yagna and Janamejaya yielded. However, he was soon afflicted by a virulent form of leprosy. Then sage Athreya asked him to take refuge in the temple of Guruvayur and worship Lord Krishna.

Guruvayur, aptly called the Dwarka of the South, is one of the most significant pilgrimage centers in India. The idol of the famous Sri Krishna Temple here is said to have been worshipped by Lord Brahma himself. Everyday, endless waves of men, women and children pour in for darshan (audience) of Lord Guruvayur (Lord Krishna). Besides pilgrims and tourists, brides and grooms with hundreds of guests flock here daily to get their weddings solemnized.

The Guruvayur Temple is unique, as it is not built in the typical South Indian style of temple architecture. For example, its architecture is not massive or grand but simple in keeping with the style of Kerala houses. Its four gateways lead to the main gopuram (where the idol is installed), protected by a slopping terracotta roof made of Mangalore tiles. Again, in true Kerala style, the temple owns 36 mighty elephants that live at Punnathur Fort, 4 km north of the temple.



Location : Located in Keraka,near to Trissur(29 kms).
Area : 36 sq. kms.
Population : Approx. 1 Lakh.



Tourist Spot »



From GuruvayurTown(Bus Stand) - All the below are located between 5 to 10 kms
Punnathur Kotta.
Chavakkad.
Palayur.
Sree Krishna Temple.
Anakotta.
Arattu.
How to reach Guruvayur ?
: Roadway :
Several state-owned and private buses as well as taxis regularly ply between Thrissur and Guruvayur. Bus connections are also available to all the important towns of Kerala as well as neighboring Karnataka and Tamil Nadu.

: Railway :
Thrissur, just 29 km away, is the nearest railway station.

: Airway :
The nearest airport is Kochi, 90 km away.