MADIKERI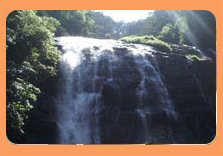 The cool bracing wind whips the hair about your faces as you ramble along the streets that dip and rise delightfully. Breathtaking views surprise you from pretty cottages as you sniff appreciatively the heady fragrance of coffee blossoms. Smell the coffee, taste the oranges, try the cardamom and savour the honey. Popularly called the Scotland of India, Madikeri (previously known as Mercara). A picturesque charming town situated at an elevation of over 5,000 ft (1,525 m) above sea level.

Madikeri is the district headquarters of Kodagu (formerly Coorg). Dubbed as the Scotland of India, Kodagu is the home of colorful, robust, martial race - the Kodavas, Said to be the descendants of the Greeks (Alexander's soldiers), the kodavas are fiercely independent. They were never conquered by either Tipu Sultan neither the British. And so to this day all kodavas retain the privilege of carrying firearms without a license.

Kodagu is famous for the generals it has produced for the Indian army. The woman are known for their beauty. But what kodavas are famous for is their hospitality. Madikeri is a great place to walk, winding lanes meander off the main street, Mountain trails promise visual delights. And the Tadiyandamol, the tallest peak in the area, stands patiently, waiting to be climbed.The Dubare forest, situated in the south of Coorg, is an elephant's haven. It was here that elephants were originally trained for the ten-day Dassera celebrations held in Mysore every year, in the month of October. Here you can simply spend hours just watching the elephants.

Location : Located in Karnataka.
Population : Approx 127418. Attraction Tourism in coorg (madekeri)
Abbi Falls. Irpu Falls.
Bhagamandala Temple.
Nisargadhama.
Talacauvery.
Coffee Plantation.
Rajas' Tomb.
Madikeri Fort.,,Raja's Seat. Nisargadhama is a popular holiday spot, an ideal place for spotting deer.
How to reach Madikeri
Regular buses operate between Madikeri and Bangalore, Mysore, Mangalore, Hassan,kaasikere, Belur, Chikmagalur, Cannanore and Tellicherry at Coorg.

Madikeri is a memorable experience in south India through by shree saara tourisme.