BACKWATER IN KERALA
The backwaters of Kerala – meandering inland lakes networked by canals – stretch to over 900 km.Boat trips across these tranquil stretches are an experience unique to Kerala. Large Kettuvalloms (traditional country crafts over 60 ft.in length)have been converted into luxury houseb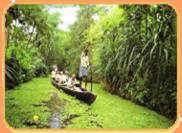 oats for these cruises.

A cruise along the palm-fringed waterways of Kerala in a luxury houseboat is the most enchanting holiday experience in India today. In this world of simple pleasures, you'll skim past ancient Chinese fishing nets, water lilies lush paddy fields, coir villages, rustic homes, temples and coconut groves. Innumerable lagoons, lakes, canals, estuaries and the deltas of forty-four rivers make up the 900 km backwater network of Kerala. The backwaters mainly cover four districts of the State ­Kollam, Alappuzha, Kottayam and Kochi. The largest backwater 'body, the Vembanad Lake flows through Alappuzha and Kottayam districts and opens out into the sea at the Kochi port. The Ashtamudi Lake, the second largest backwater stretch, offers the longest ride (eight hours) and is considered the gateway to the backwaters.


Your holiday home in this tranquil world is the comfortably furnished houseboat. Traditionally, the houseboat was called kettuvallam, which means a boat made by tying together pieces of wood. Unbelievable as it may sound, not a single nail is used in the making of a kettuvallam. Jack wood planks are joined together with coir rope and then coated with black resin made from boiled cashew nut shells.

Today, these giant 80-foot long crafts have been adapted into luxuriously furnished houseboats. A kettuvallam usually has one or two bath attached bedrooms, an open lounge, deck, kitchenette and a crew comprising oarsmen, a cook and guide.

One of the most memorable experiences for travelers in India-even those on the lowest of budgets - is the opportunity to take a boat journey on the backwaters of Kerala. Immortalized as the setting for Arundhati Roy's Booker-prize-winning noval The God of Small Things, the area known as Kuttanad stretches for 75km from Kollam in the south to Kochi (Cochin or Ernakulam) in the north, sandwiched between the sea and the hills. This bewildering labyrinth of shimmering waterways, composed of lakes, canals, rivers and rivulets, is lined with dense tropical greenery and preserves rural Keralan lifestyles that are completely hidden from the road.

Routes and practicalities
There are numerous backwater routes to choose from, on vessels ranging from local ferries, through chauffeur-driven speedboats offered by the KTDC, to customized kettu vallam and rice-boat cruises (houseboat cruises). The most popular excursion is the full day journey between Kollam and Alappuzha (Alleppey). You can cover part, or the entire route ­in a day, returning to your starting point by bus during the evening, or more comfortably, stay the night at either end Kollam with its maze of rivers, lakes and lagoons, is a popular destination where one can see splendid views of the glorious Kayamkulam Lake and the Ashtamudi Lake. Kochi, the commercial Capital of Kerala, is not far behind with its treasure of myriad lagoons, rivers and lakes.

Monsoons here are even more beautiful because of the traditional snake boat races with the 130 feet long Chundan boats as their highlights. Some of the major boat race events are the Nehru Trophy Boat Race held on the second Saturday of August and the Aranmula Boat Race, which is more traditional and is associated with temple festival at Aranmula. The boat carnival starts on the day of Thiruonam, the most auspicious day of the Kerala festival, Onam , Besides these backwaters of Central Kerala, there are other places too such as Veli in South Kerala, and Kadinamkulam, Edava, Anjengo, Madayara, Peravur, Ashtamudi, Kayamkulam, Kodungalur, Chetuva and Valiyaparamba in North Kerala.
Hotels in Kollam : Hotel Aquaserene, Ashtamudi Resorts, Palm Lagoon.

Alappuzha (Alleppey)
Under its former appellation of Alleppey, ALAPPUZHA, roughly midway between Kollam (85km south) and Kochi (64km north), is another roman­tic and historic name from Kerala's past. It was one of the best-known and wealthiest ports along the Malabar Coast, to the extent that successful British traders who had settled here during the Raj were loath to leave at Independence. A sizeable community of British expats remained resident here until the 1950s, enticed by thriving trading opportunities; their luck ran out in 1957, however, when the newly elected communist government clamped down on private businesses, and they were forced to return to Britain. With such a long trading history, tourist literature is fond of refer­ ring to Alappuzha as the "Venice of the East", but while it may be full of interconnecting canals, there the resemblance ends.

Hotels in Alappuzha : Coir Village Lake Resort, Coconut Palms, Green Palace Health Resort,Kayaloram Lake Resort,Keraleeyam Ayurvedic Lake Resort,Kuttanad Resort, Malayalam Resort, Palm Grove Lake Resort,Punnamada Backwater Resort,Penquin ,Shanthitheeram Lake Resort, Lake Palace.
Kumarakom
Kumarakom has been recently discovered and have now blossomed into a beautiful backwater holiday destination with its spectacular lagoon fringed by coconut groves that have almost become an icon of Kerala tourism. This place also boasts of a 14-acre bird where one can spot several of avian species such as water ducks, cuckoos and Siberian storks. Coconut Lagoon and Englishman Henry Baker's bungalow that has now been converted into a heritage hotel by the Taj group are the chief attractions of the place.

Today, one may enjoy the backwaters of Kumarakom whole sailing in the local houseboats, called 'Kettuvallam' that are unique to this region.

Hotels in Kumarakom : Abad Whispering Palms, Coconut Lagoon, Golden Waters, Kumarakom Lake Resot.Taj Garden Retreat, Waterscapes, Cocobay Resort.

Kochi
The commercial and industrial capital of Kerala, Kochi (Cochin or Ernakulam) has one of the finest natural harbours in the world. The city is home to the oldest synagogue in the Commonwealth as well as numerous old churches and temples. Jew Town, the area around the synagogue is a centre of spice trade and curio shops.

Hotels in Ernakulam (Kochi or Cochin): Bolgatty Palace, Taj Residency, Kamyakom Haven, Taj Malabar, Brunton Boat Yard.

Kozhikode (Calicut)
Unexplored, unspoilt, the backwaters of Kozhikode hold great promises of enchanting holiday options. Elathur, the Canoli Canal and the Kallai River are favorite destinations for boating. Kadalundi, with its beautiful bird sanctuary is a charming site. Korapuzha, the venue of the Korapuzha Jalotsavam is fast becoming a popular water sport destination. Accessibility: Well connected to all the major cites in India by excellent air, road and rail networks.
Hotels in Kozhikode : Kadavu Resort.

Kasaragod
The northernmost district of Kerala, Kasaragod is situated on the sea coast with the Western Ghats in its eastern and northern borders. Backwater trips on the Chandragiri River and Valiyaparamba are fascinating experiences.

Hotels in Kasaragod : Hotel City Tower, Apsara Regency, Fort Palace, Fort Land Tourist Home, Bekal International, Nalanda Resort